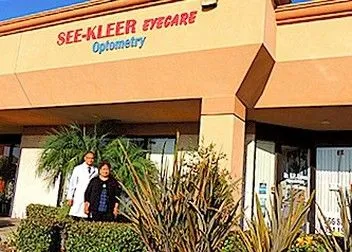 About See-Kleer Eyecare Center
At See-Kleer Eyecare Center, each member of our vision care team is selected by Dr. Benjamin Llanes based upon his or her experience, professional demeanor, and dedication to providing personalized care to our optometry patients.
Our entire San Diego optometry staff is committed to ensuring the comfort and satisfaction of each and every patient. We will do our best to accommodate your busy schedule by finding appointment times that meet your needs. Our knowledgeable staff at See-Kleer Eyecare Center will work with you to help you understand your vision insurance coverage and provide financial alternatives to ensure you get the best vision care possible.
We know that you have a choice when it comes to San Diego optometry, so we strive to provide comprehensive eye exams, a great selection of glasses, and personalized care.
---
Facilities & Equipment
Opticam instrument provides instantaneous photography of frame, sunglasses and contact lenses fits in 4 viewing angles or the evaluation of 4 eyeglasses all at the same time. This unique camera technology enhances the process of selecting frame, sunglasses or colored contact lens by giving the individual the chance to sample how they look their best with the selection they make before ordering the eyeware.
The Opticam also has educational module, that explains and graphically demonstrates the different advantages and effect of the lens options, i.e, photochromic lenses, anti-reflective coating, different color tints, Progressive addition lens, etc. It also is a platform with which Dr. Llanes is able to explain any ocular condition that is of significant concern, i.e, diabetic and hypertensive retinopathy, cataracts among other things.
It also has educational videos that can be viewed that provide insight to an ophthalmic issue that is of significant concern.